Since 2006 when I invited my students to Polour, we practiced sound art, I have been proposing an event for my workshop and thy participate. Ever since I produced interactive works for the virtual and Internet environment, I have felt the need of sound art in my work. I have always loved every day and abstract sounds. They were suitable for virtual and multimedia works. To do this, I learned how to compose and produce sound.
"01" Interactive Online Video Installation by Ahmad Nadalian
برای دانشجویان چهارچوب کلی کار را مشخص می کردم در جمع شرکت کنندگان حسام الدین محمدیان نقش تعیین کننده ای داشت.
مجموعه آشیانه ها در کارگاه نظری عملی هنر جدید احمد نادعلیان اردیبهشت 1385
هفتمین جشنواره هنر محیطی در ایران (تهران پلور): آشیانه ها و قاصدکها
یکی از تمرین های ما انتخاب آزاد اشیاء و عناصر طبیعی بود که افراد با استفاده از آنها صدا تولید کنند و حسام را همراهی کنند.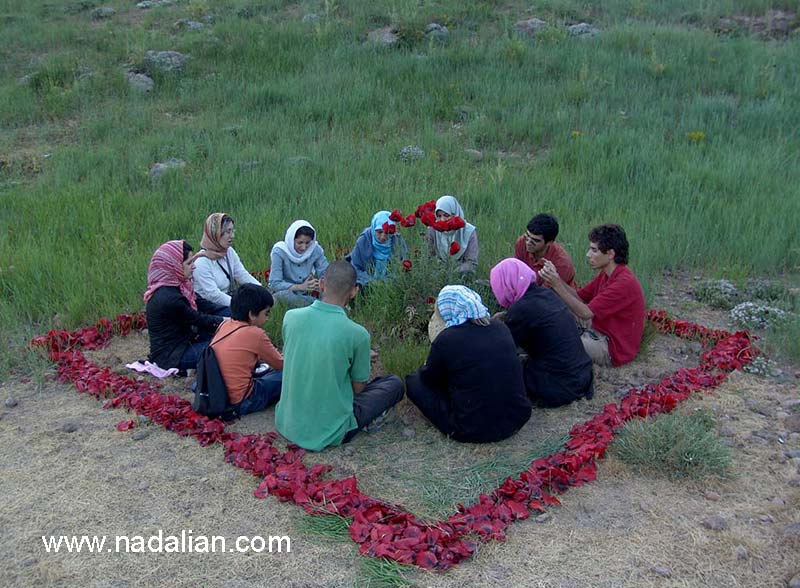 در مجل دیگری در دشت شقایق ها تمرین هنر صدا داشتیم.  معمولا این نوع صدا ها را بیشتر حسام مدیریت می کرد امکان کار بداهه وجود داشت.
در زمانیکه ما تمرین صدا داشتیم صدای چوپانها مزاحم تلقی می شد. برای ضبط چند بار کار متوقف شد. اما برای من صدای مزاحم جذاب و یک فرصت بود. در آن زمان با ضبط صدای آنها و تدوین به صدایی که در یکی از غار ضبط شده بود این ویدئو ساخته شد. چوپان ها با گوسفندان و سگ ها با زبان خاصی صحبت می کنند. این زبان هیچوقت جدی گرفته نشده است.
در مرحله بعدی صدا ها را با چیدمان گلبرگ ها تدوین کردم. در سالهای اول بعضی از کارهای کارگاه ما هنر در طبیعت بود. الزاما ابعاد زیست محیطی نداشتند و گاهی  افراد سخت گیر دوست دار طبیعت از کار ما انتقاد می کردند. تدریجا از این نوع آثار در کارهایم و کارگاهم فاصله گرفتم.  
Hits: 0