Art in the Landscape: Marked in Stone and Sand, By Robert C. Morgan
An Iranian sculptor brings his art to the river, beaches—and parks.
Landscape Architecture: The magazine of the American Society of Landscape Architecture  6/2008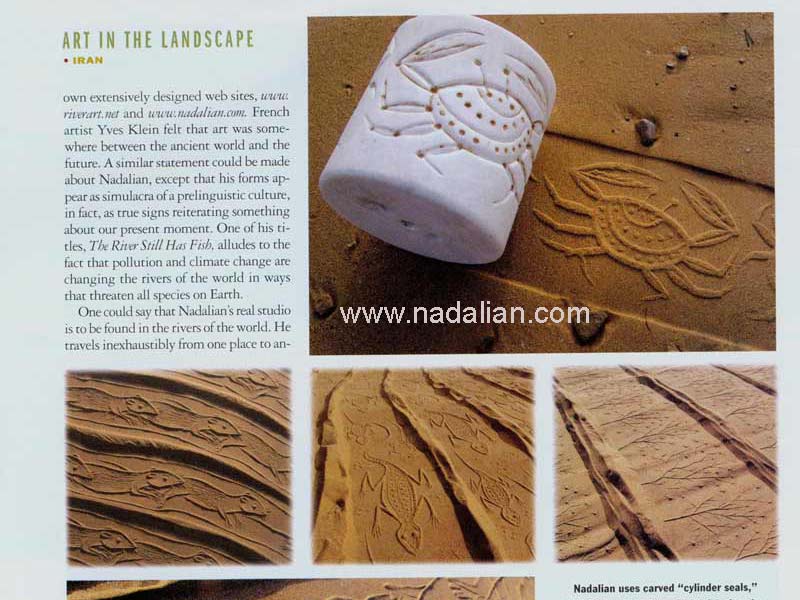 Ahmad Nadalian's work is like a synaptical charge between the Paleolithic cave art and Ancient Persia.  He works with directly the earth, primarily in sand and stones on the shores or shallow pools of rivers, ponds, and streams.  He can often be seen near the Haraz River in the village of Poloor, approximately 65 kilometers north of Tehran, wearing s wide-brimmed straw hat, carving impressions of fish, human hands and feet, river goddesses, and animals into rocks beneath the surface of the water.  From 2000-2001, Nadalian did his Hazar River project where numerous animals, fish, and human signs appeared along the course of the river, thus suggesting an allegory over time that may have been done centuries ago, but in fact were carved in postmodern times.
In addition to receiving a degree from the University of Tehran in the eighties, Nadalian went on to receive a doctorate from the University of Central England.
He is well versed in computer technology and believes the most viable and effective way of transmitting his message as an artist is through digital displays, the Internet, and his own extensively designed web sites, www.riverart.net and www.nadalian.com.
French artist Yves Klein felt that art was somewhere between the ancient world and the future.  A similar statement could be made about Nadalian, except that his forms appear as simulacra of a pre-linguistic culture, in fact, as true signs reiterating something about our present moment. One of his titles is "The River Still Has Fish" – meaning that, in contrast to Paleolithic times, the threat of pollution is changing the rivers of the world in a way that is threatening to all species on Earth.
One could say that Nadalian's real studios are the rivers of the world.  He travels inexhaustibly from one place to another carving his petroglyphs as human traces into the rocks of riverbeds, oceans, and ponds.  He has been in Asia, Africa, Australia, Europe, the United Kingdom, Russia, Scandinavia, Uzbekistan, and the jungle rivers of South America. I remember in Venice during the month of August 2003, Nadalian would awaken at the crack of dawn, put on a knapsack full of carving tools and his perennial straw hat, and proceed to a secret alcove somewhere at the end of the Lido.  He left the hotel at dawn because this is when the tide was down, which facilitated carving on the rocks that eventually the crashing waves would conceal. In addition to carving rocks – many of which are done on small flat stones that he hides in wilderness places  —  Nadalian also carves fish on spools of hard stone, which are then rolled out using a long stick on the surface of wet sand.  The result is a myriad harvest of fish that adorn the beachfront. Eventually, of course, the tide will wash over them as well.
As a result of an invitation to the United States in the Spring 2007, Nadalian spent most of his week in New York not looking at galleries and museums, but carving stones in Central Park.  Part of his concept is not to make the signs appear too obvious.  His work does not shout out loud. Instead, his fish and animal signs are nearly hidden, often difficult to find.  The overall point of the work is to deliver signs from his own Persian heritage by carving them into what today we call the "natural" environment. The artist hopes that people will discover them and, in the process, begin to reflect on the environmental and cultural signification they express.  Nadalian's work is a kind of a combined Earth and Process art, at least in Western terms.  Yet he is also within the context of Postmodernism by returning us to an era when language did not exist other than as signs, an era when there were no urban monuments and no public art in city squares.  There was only the earth on which we trod and the satisfaction of knowing what had to be done each day.
See also: Sculpture Magazine (Vol. 27, No. 2) March 2008
Art in the Landscape: Marked in Stone and Sand, By Robert C. Morgan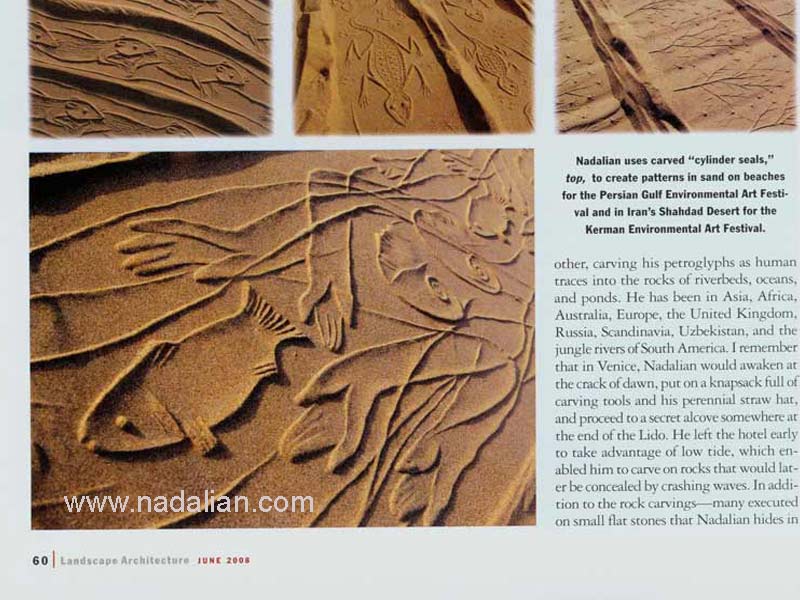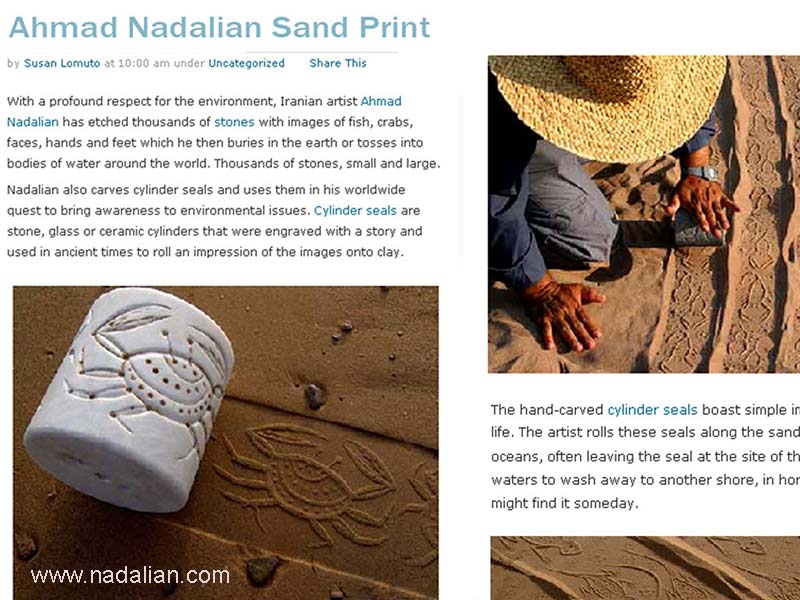 Ahmad Nadalian Sand Prints
Susan Lomuto
With a profound respect for the environment, Iranian artist Ahmad Nadalian has etched thousands of stones with images of fish, crabs, faces, hands and feet which he then buries in the earth or tosses into bodies of water around the world. Thousands of stones, small and large.
Nadalian also carves cylinder seals and uses them in his worldwide quest to bring awareness to environmental issues. Cylinder seals are stone, glass or ceramic cylinders that were engraved with a story and used in ancient times to roll an impression of the images onto clay.
The hand-carved cylinder seals boast simple images of ocean and river life. The artist rolls these seals along the sandy beaches of the world's oceans, often leaving the seal at the site of the sand print for the waters to wash away to another shore, in honor of the fisherman who might find it someday.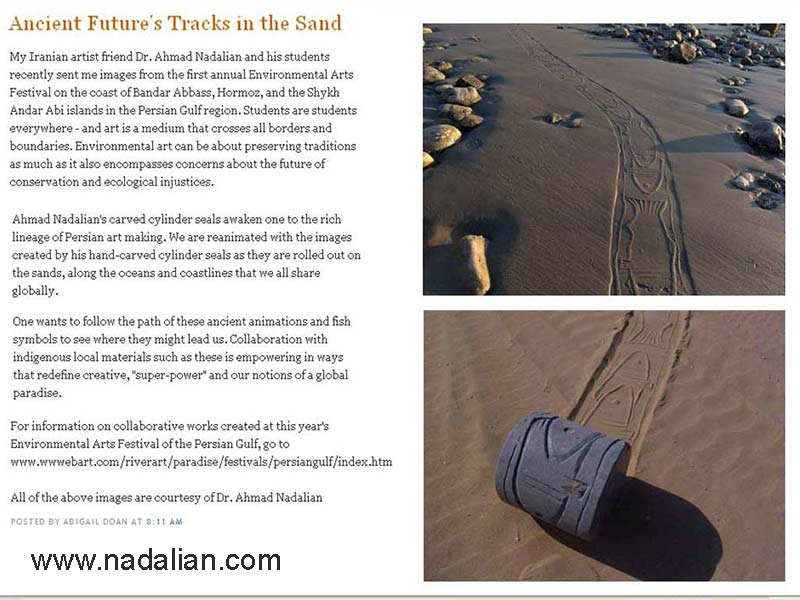 A Comment by American artist Abigail Doan
Ahmad Nadalian's recent work created with his students and colleagues at the Environmental Art Festival in the Persian Gulf might actually save the world. I believe that every one who experiences these pieces and their environmental optimism, might believe once and for all, that there are indeed solutions to the environmental ills and conflicts that we face in the world. The energy in the painted hands and faces of his students puts a whole new look on how one might view the future of The Persian Gulf and our relationship to it. Students are students everywhere – and art is a medium that crosses all borders and boundaries.
Environmental art can be about preserving traditions as much as it also encompasses concerns about the future of conservation and ecological injustices.
Ahmad Nadalian's carved cylinder seals awaken one to the rich lineage of Persian art making. We are reanimated with the images created by the hand-carved cylinder seals as they are rolled out in the sands, along the oceans and coastlines that we all share. One wants to follow the path of these ancient animations and fish symbols to see where they might lead us. Collaboration with indigenous local materials such as these is empowering in ways that redefine "super (creative) power" and our notions of a global paradise.
Abigail Doan
(Artist, USA and ITALY)
A Comment by American artist Abigail Doan about Ahmad Nadalian's Sand Prints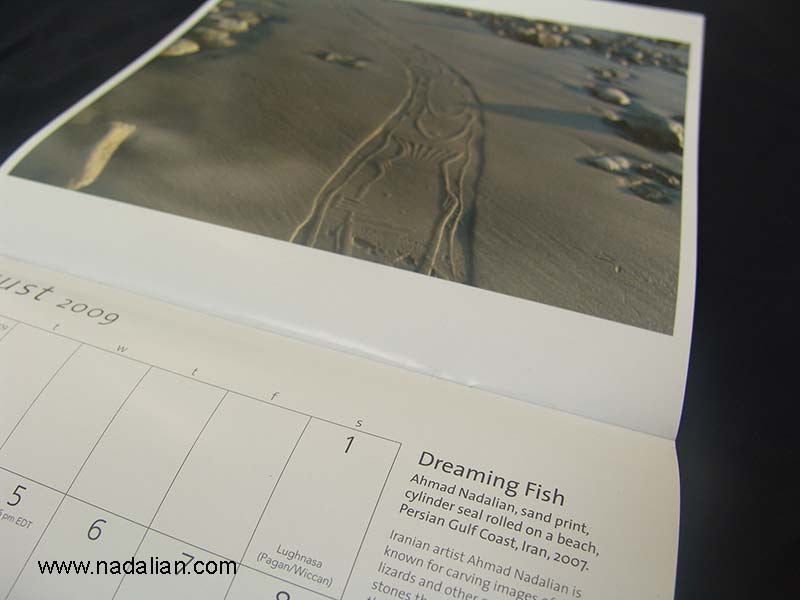 Report and interview about the Persian Gulf Environmental Art Festival on the website of the Green Museum in USA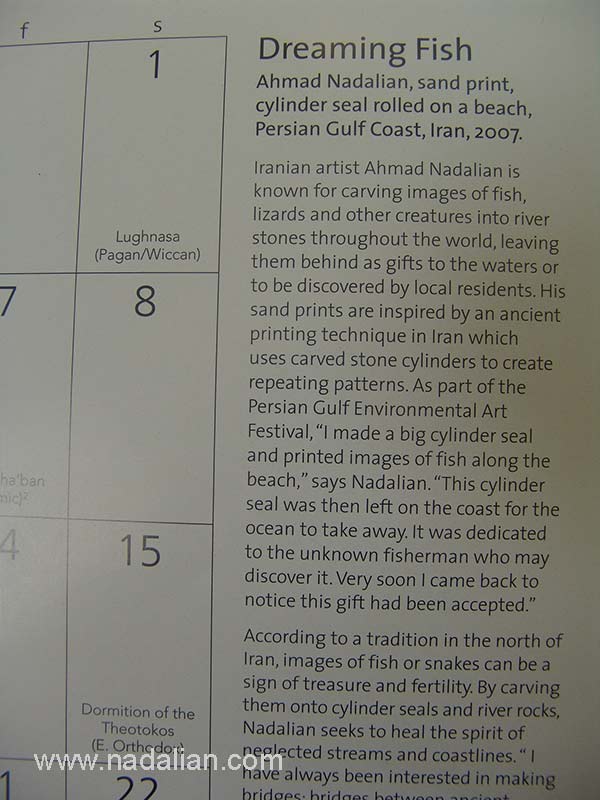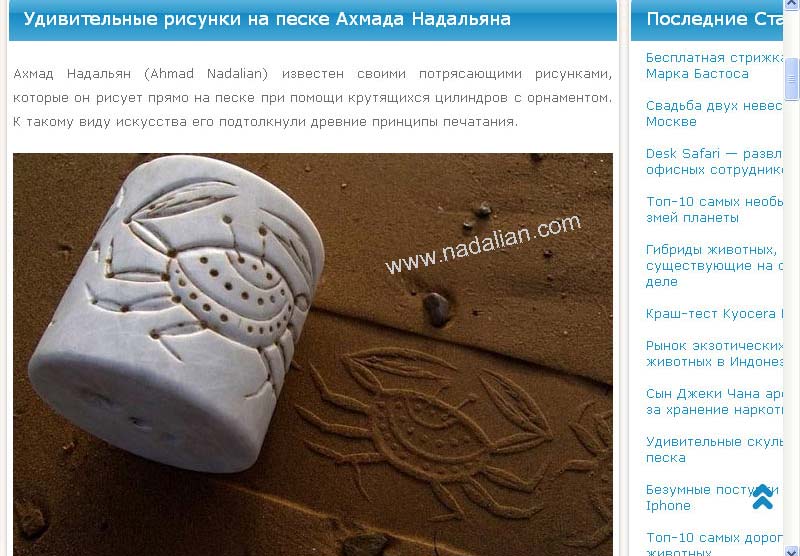 Hits: 2